Basic approach of corporate governance
Kaga Electronics recognizes that enhancing corporate governance is a key management issue. The Company is creating a corporate governance system with the fundamental policies and aims of ensuring total compliance with corporate ethics and laws and regulations, reinforcing internal control systems, and ensuring the soundness, efficiency and transparency of business operations.
Corporate governance system
Kaga Electronics adopts a system of corporate auditors and a corporate governance system based on collaborations between the Board of Directors, auditors and Board of Auditors, and the accounting auditor. The Board of Directors comprises 10 directors (including three outside directors)and four auditors. In principle, the Board meets once a month and holds extraordinary meetings when necessary. The Board makes decisions on important matters related to items stipulated by laws and regulations and to management, and supervises the execution of duties by directors.
Auditors regularly attend Board of Directors meetings and participate in other important internal meetings as part of efforts to monitor and audit the business conditions of the Company.
The Company has established an Audit Office to handle internal audits in conjunction with the auditors. The Audit Office discusses audit plans with the auditors in advance and regularly reports audit findings to the auditors. The Office also cooperates with the auditors as required, such as when requested for reports.
CSR Promotion Committee
The Company has established a CSR Promotion Committee chaired by the President & COO, which promotes corporate social responsibility (CSR) alongside efforts to enhance corporate value. The Information Disclosure Committee, Risk Management Committee, Compliance Committee and Personal Information Management Committee have been established under the CSR Promotion Committee. Each of these committees actively implements activities in their respective domains.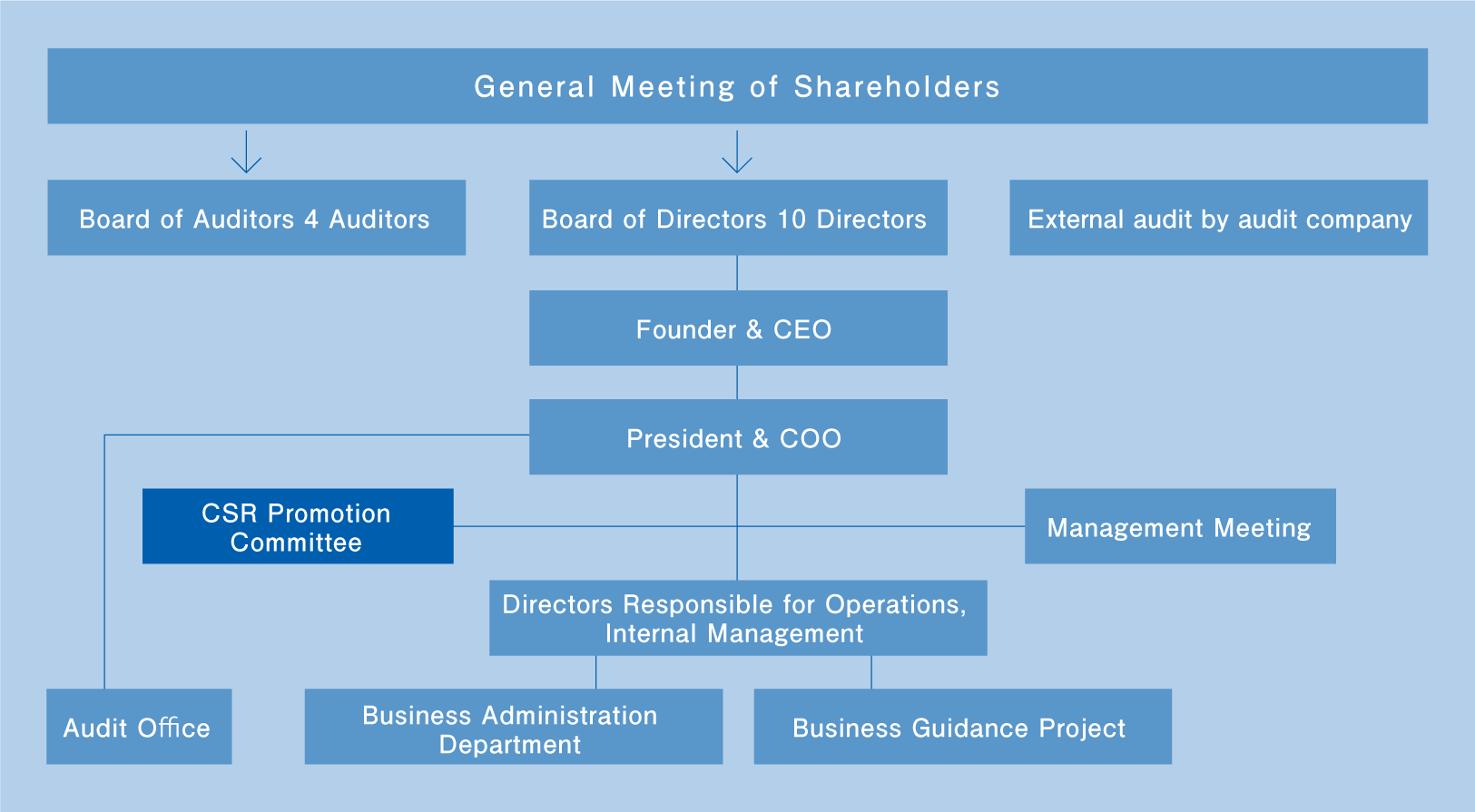 * The following committees are subordinate organizations of the CSR Promotion Committee.
1. Compliance Committee
2. Risk Management Committee
3. Information Disclosure Committee
4. Personal Information Management Committee
Corporate governance Report